March is Women's History Month and on March 8th we celebrated International Women's Day- a day that commemorates the cultural, political, social and economic achievements of women across the world. In honor of Women's History Month, we chatted with some of the women behind Loudoun's wine, beer and spirits scene. Read more about these leading ladies then come out for a visit and a chance to chat with them more!
Sunset Hills Vineyard & 50 West Vineyard: Corry Craighill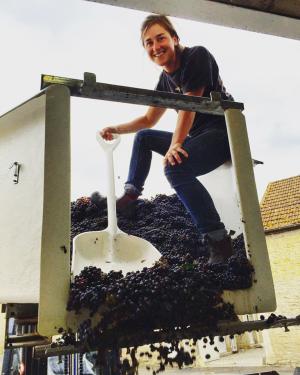 Corry, the winemaker and vineyard manager at Sunset Hills Vineyard and 50 West Vineyard, began her journey in 2010 as a tasting room pourer. Eager to learn, she moved her way up the totem pole after spending time in other wine harvest areas like Oregon, New Zealand, France and South Africa. When asked what she enjoys most about being a woman in the craft beverage industry, Corry says, "This industry is awesome because of the community of people—both women and men. …All of the winemakers I have worked for have taught me something new. This industry fosters creativity and communication.  We are all collaborators, scientists, artists, students, teachers, mentors, mentees.  Although being a woman might set me apart in one way, it does not characterize my winemaking style.  My goals are to help grow quality fruit, make interesting and thoughtful wines, and to be a participant in the community of winemakers and growers who are helping to advance the Virginia wine industry."
Catoctin Creek Distillery: Becky Harris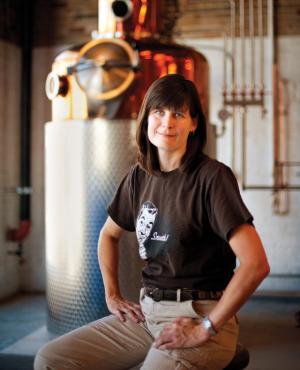 As a co-founder of Catoctin Creek Distillery, Becky Harris has been working to produce spirits in Loudoun County with her husband since 2009. As a former chemical engineer, Becky previously worked for companies using wildly different industrial processes so the thought of learning how to make spirits didn't scare her away. Becky loves working with her team and enjoys interacting with customers stating, "Once they hear our story and taste our product, they become as excited about it as we do." Becky's advice to women interested in working in the craft beverage industry is to, "find a product that you can really be passionate about…you have to really work hard to stand out in the marketplace."
 
Solace Brewing Company: Bridgette Turner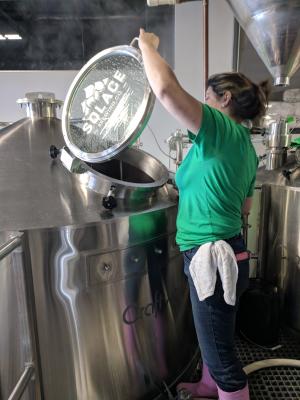 Bridgette, lead brewer at Solace Brewing, loves every second of working in the craft beer industry. Bridgette encourages women interested in the beer industry to  conduct their  own "beer education." "I would try all different types of beer until I felt confident in my knowledge of each and every style of beer." Also, when starting out, she said  it's important to understand a brewery from the bottom up. "Working in the tasting room, I would ask to help out in the back with cleaning equipment or anything I could just to get more exposure and understanding of the brewery operations." When asked what one of her preferred styles to brew is, Bridgette said, "IPAs!" Solace's hit Lucy Juicy and Sun's Out Hops Out are not only popular among customers, but are ones that Bridgette loves to brew and drink herself. Her love for the product definitely provides the foundation for her contagious passion for brewing.
Old Ox Brewery: Allison Lange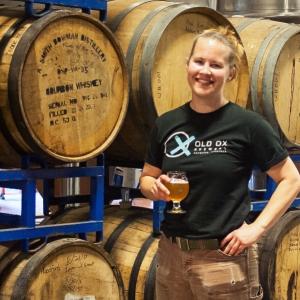 Working in the beer industry for five years, Allison started on the bottle line and has moved her way up; she is now the head brewer at Old Ox Brewery and leader of the DC Chapter of the Pink Boots Society. Prior to beer, she worked as a biochemist, researching yeast and worked at two other established breweries in the northern Virginia/DC region. As a woman working in Loudoun's brewery industry , Allison loves that there is room for all types: the creative flavor chaser, the meticulous optimizer, the guru of fun and the mechanical wizard.


Janell Zurschmeide: Dirt Farm Brewing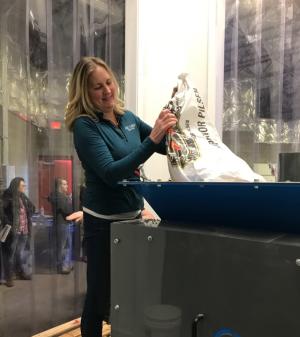 Inspired by pioneer breweries in the area, Janell and her family saw the rise in demand for locally sourced ingredients, which is what led to the birth of Dirt Farm Brewing, an expansion of the already-formed family farm. Due to her love for fresh and local craft beer, which she thanks her dad for, it was an easy decision for Janell to jump into brewery production. As a woman working in a brewery, Janell enjoys the work life balance, which allows her to work on the farm and raise her three children.  When asked what advice she'd give other women interested in this industry, Janell says, "Dive right in! It's very refreshing to be in such a creative and collaborative industry!"
In honor of International Women's Day, the Pink Boots Society's Collaboration Brew organizes and empowers women beer professionals to come together and brew their version of the selected beer style. This year the women from our local Virginia chapter brewed "15 Shades of Grisette" at Solace Brewing where 15 different breweries participated! This special brew will debut at Old Ox Brewery on April 14th.