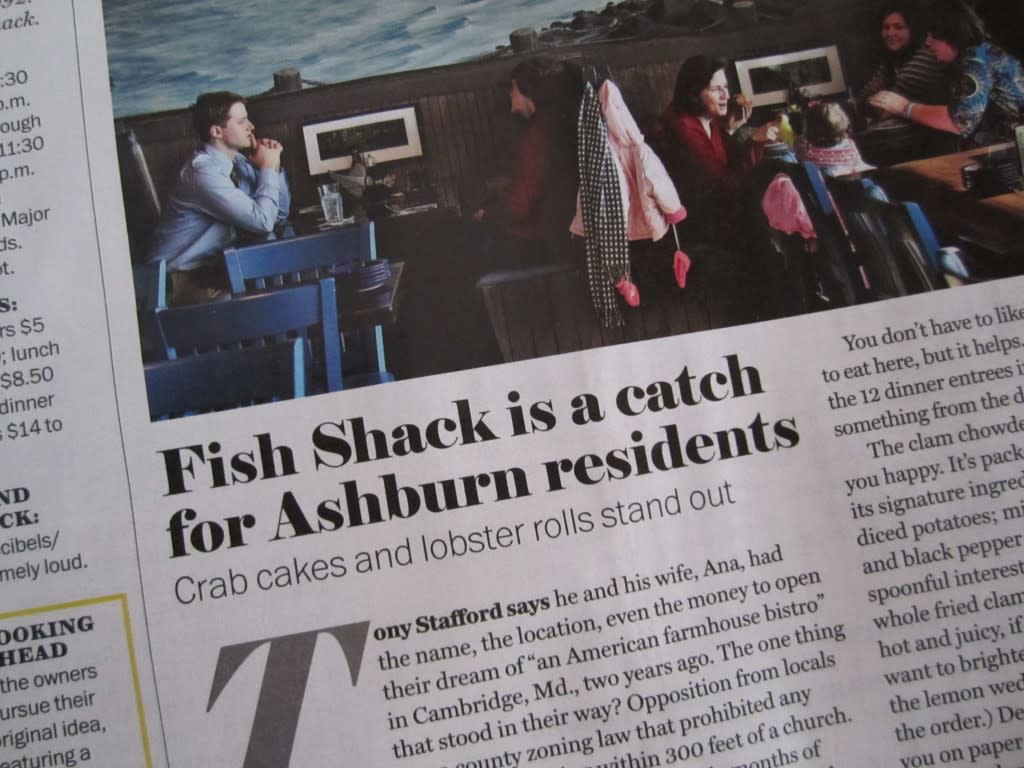 Eastern Loudoun continues to receive some great dining options, especially in the seafood department. First, we had great dishes at Sweetwater Tavern and Clydes Willow Creek Farm. Then came The Dock at Lansdowne and then Hooked. All great additions to Loudoun's dining scene. Now comes Ford's Fish Shack. This newcomer, right on Farmwell Road between Ashburn Village Parkway and Loudoun County Parkway (Farmwell is Waxpool Road there), is garnering attention.
The Washington Post's Dining Critic Tom Sietsema reviews Ford's Fish Shack in the January 2, 2011 Washington Post Magazine. (Its also online here). He gives it a 2-star (good) rating and gives the crab cake and lobster roll high marks. That's good 'cause those are two of my favorites. If nothing else, click on the link to the review just to see the picture of the crab cakes. Here's Tom's description of these dishes: "The best advice I can give boils down to two words: crab cakes. Ford's model is mostly lump crab, seemingly held together by determination. The taste buds pick up Old Bay spice, dry mustard and some heat (from cayenne), but the seasonings are grace notes rather than masks, allowing the crabmeat to shine. Neat trick: The chef adds a bit of pureed sauteed onion to the mix for texture. Coming in second is the lobster roll, pink chunks in a creamy binder on golden bread, ready for a close-up. (It's gorgeous.)"
Next time you stop by Ford's Fish Shack, say thank you to owners Tony and Ana Stafford for bringing this great addition to the Loudoun dining scene. Supposedly they tried to open a restaurant in Cambridge, MD first but ended up coming here instead. Great news for us, and for you!
Cheers, and Bon Appetite!
(Psssst. By the way, if you find yourself in western Loudoun, you can always stop by Lowry's Crab Shack in Hamilton for some great seafood too.)