(We invited Stone Tower Winery Chef/Sommelier Sarah Culbert to share an easy Valentine's Day dessert recipe, to go along with some local wine, beer, and spirit pairings for you to try. Enjoy!)
With Valentine's Day just around the corner, some are making plans with their significant others, while others are avoiding the Hallmark aisle of the grocery store at all costs. No matter your feelings on the day, Valentines is a great excuse to enjoy some sweets. If you are underwhelmed with the box of variety chocolates and store bought cookies, why not impress those special people in your life with an elegant and flavorful crème brûlée.
This easy to follow recipe will make even the culinary impaired appear like the next Martha Stewart. The best part may be that you can use the leftover batter for decadent French toast the next morning!
2/3 cup Egg Yolk
4 cups Heavy Whipping Cream
1/2 cup Granulated Sugar
1/2 cup Brown Sugar
1 1/2 Vanilla Beans (can substitute with 1 tbsp of Vanilla Paste)
*optional- Add 1 tbsp Grand Marnier for a light, citrus flavor
Whisk together the egg yolk and sugars in a medium bowl and set aside. In a sauce pan, bring the heavy cream and vanilla beans (pod split and seeds scraped into cream) to a simmer. Remove from heat and ladle (3 x 2oz) the cream into the egg mixture while whisking. Strain the egg mixture back into the cream and place the pot into an ice bath (filling your sink with ice works just fine) and let it cool down. Once cool, the batter can be kept for days or be baked off immediately.
Preheat the oven to 300 degrees. Prepare a water bath of about 1/8 inch in a cake pan and place dessert dishes in the pan. Fill the dishes until they almost reach the top and cover the pan with aluminum foil. Carefully, so as not to get any water in the batter, place the pan in the oven for 45-60 minutes. Remove from oven and check consistency (they should jiggle lightly, but not as freely as pudding). Allow to cool and store in the fridge until ready to eat.
Remove from fridge and sprinkle raw sugar over desserts and torch to a golden brown. Garnish with raspberries or, my personal favorite, a sprig of lavender. This creamy and delicious dessert is a perfect finish to any meal, but even more so when paired with the fabulous selection of wines, beers and spirits in Loudoun.
Pairings
Stone Tower Chardonnay- Winemaker Tim Crowe has brought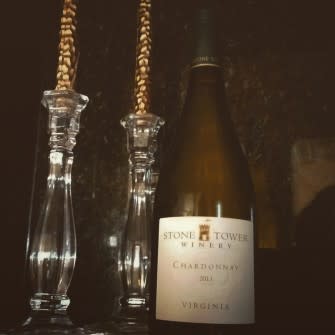 the beauty of Old World wines to Virginia; with its notes of caramel and rich, round mouth feel from its time in French oak it is reminiscent of a high quality Chablis and the perfect complement for the dessert. The creaminess in both the wine and the brûlée will complement each other and allow for those rich toffee and vanilla notes of each to come to the surface.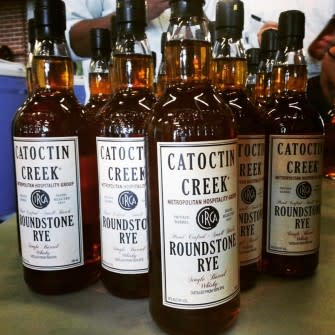 Catoctin Creek Roundstone Rye- Throw in a dash of nutmeg and cinnamon into the batter and pair with this great local whiskey. The additions to the recipe will really bring out the beautiful spicy/sweet complexity of the whiskey.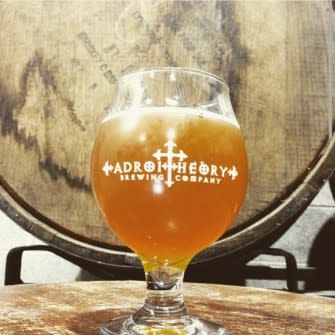 Adroit Theory Golden Stout- Light in color, full in flavor. Rich, roasted flavors of oats, coffee, and cacao will enhance the caramelized notes of the sugar.
Local Options
Does this all sound delicious, but you'd rather let someone else go through the hassle during the holidays? Not a problem, at Stone Tower we are blessed with an excellent staff, stunning views, and fantastic wines. Join us for a table for two equipped with Sullivan's Pond Farm cheese, a bottle of our Blanc de Blancs, and chocolate dipped strawberries with gold embellishments for you and your sweet!
You can find out more about all of the fantastic Valentine's Day events and specials going on in Loudoun here. Make sure to tell us if you tried out the recipe and what you paired it with. We'd love to know!