By Joann Hazard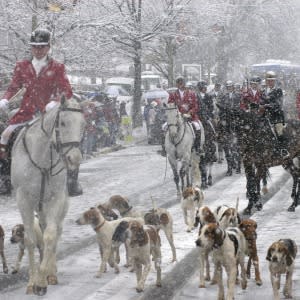 On Saturday December 6, 2014, the small, quaint village of Middleburg (pop. 600) will welcome more than 10,000 visitors for the annual Christmas in Middleburg celebration.
When we opened the Middleburg Country Inn 10 years ago, I knew about Christmas in Middleburg, but to enjoy the full effect of this old-fashioned, traditional celebration, you just have to be here! That was the lesson I learned my first year, and I've watched this event grow and evolve over the years into a truly special experience for the thousands who come to our little town.
The event opens with the Hunt Parade of hounds and horses—and you can be sure something exciting always happens when you have dozens of horses and hundreds of hounds charging down Main Street. The celebration continues throughout the day, and we're really proud that our little town pulls out all the stops to make sure our visitors are well fed and well cared for, come rain, snow or shine. After lunch, you'll want to line up again for what we call our Santa parade, which includes more horses and dogs of every breed, marching bands, floats, dancers, twirlers, costumed characters—it's all there for you to enjoy.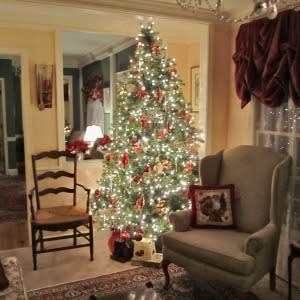 One of the great pleasures of the holiday season at the Middleburg Country Inn is the opportunity to transform our home with vintage Christmas decorations. Over the years we feel as though we've become the welcoming output for those who come to our village on the first Saturday in December. We love having guests with us that weekend, as we get to enjoy their excitement, as well as our own, as we watch the parades, visit with Santa, enjoy a fabulous meal (or two) in town, and shop 'til we drop.
For more information on Christmas in Middleburg and Loudoun visit www.visitloudoun.org . We hope you'll join us this year, and we promise you'll have a wonderful time, whether it's as a couple or with the kids in tow. All are welcome.