Imagine owning 30 or 40 acres of gorgeous rolling farmland in Western Loudoun.  What would you do with that land?
Well, if you're a craft beer fan, a savvy investor, or both you just might open a brewery!  
Seizing on the hot "destination brewery" trend sweeping the craft beer world, 10 of Loudoun's craft breweries have set up shop on spacious and picturesque estates dotting the western and northern ends of the county.   From the rustic appeal of Old 690 Brewery and the adventurous brew masters and BBQ aficionados of Vanish Farmwoods Brewery to the unique dual winery-and-brewery concept found at Quattro Goombas Brewery and Hillsborough Vineyards and Brewery, they each offer a unique theme and style of beer.  
What they all have in common, however, is a spectacular setting and a commitment to making great beer in sustainable harmony with the farmland that they occupy. Let's take a closer look at Bear Chase Brewery and B Chord Brewery, which are almost neighbors along Route 7 in the far western reaches of Loudoun.
Walking into Bear Chase you are immediately struck by the sheer scale of the place.  Situated on 33 acres of gorgeous farmland, Bear Chase features a huge and airy main tasting room with 18-20 beers on tap.  The tasting room opens up to a massive covered outdoor patio and adjoining terraced yard that looks back east on a stunning vista of Loudoun County hills and farmland.  
Also nestled on the property is a second tasting room known as the "Bear Cave," which has a sports bar ambiance and is geared toward group rentals,  a rentable vacation home called "Bear Chase Manor" that sleeps up to 16 guests, farmland used to grow various beer ingredients and of course a 10 barrel production and 2.5 barrel pilot brewhouse.  
According to General Manager Chris Suarez, Bear Chase strives to be "everyone's brewery" with a friendly and welcoming atmosphere for all ages and for all kinds of beer lovers.  As a destination brewery distant from the major population centers, Suarez is continually working on ways to entice customers to stay for at least a few hours so that they can enjoy some great beer, great food and a great ambiance.  And yes, children are absolutely welcome at the brewery, with plenty of room to run and games like cornhole to play. In fact, Suarez said some customers choose Bear Chase because their kids have so much fun on the grounds.  Local fans Erin and Josh Fisher give Bear Chase high marks for the, "amazing view from the deck, thoughtful and family-friendly layout and delicious beer."
Bear Chase boasts a very friendly and accessible tap list, including best sellers and crowd favorites High Point Helles Lager, Mr. Blonde Blonde Ale and Mr Pink, a variant of Mr. Blonde with tart cherries.  I also really enjoy the New England IPA Gertrude's ghost, which is a highly refreshing hazy and juicy delight, and the Loaded for Bear DIPA, which is a hop-forward explosion of flavor featuring floral, fruity and earthy notes.  
The Bear Chase owners have plans to add cider production from their onsite orchard next spring and celebrate their one-year anniversary with a bash on Saturday, September 7.  Whether you come for the big party or some other time, just make sure you come.  It's a destination and an experience not to be missed!
B Chord Brewing Company
B Chord is nestled on 66 acres of farmland just a few miles east of Bear Chase.  And though they are both farm breweries and neighbors, they could not present a more different atmosphere and vibe.  B Chord's operations are focused on a single large structure that hosts the tasting room as well as the brewhouse and a large stage for live music. It also has a very nice patio for outside drinking.
The brewhouse is also not separate from the tasting room in any meaningful sense, which gives customers a great opportunity to see the brewing equipment and learn about the brewing process up close. That openness is clearly an extension of owner/ master brewer Marty Dougherty's vision and philosophy of being a "downhome community brewery; less like Disney Land and more like Cheers." According to Dougherty, "customers are never anonymous" at B Chord and he strives to immerse the brewery into the fabric of the community.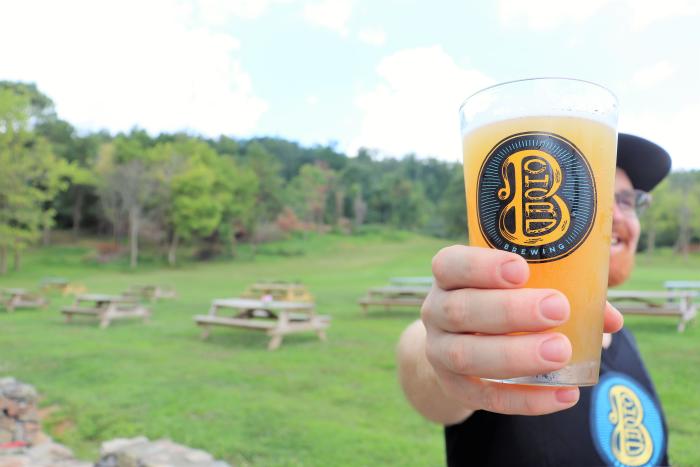 B Chord was the first brewery to extend weeknight hours, specifically to ensure that neighbors could stop by after work for a pint, allow patrons to bring in outside food (in addition to hosting food trucks) and also work to promote and support local organizations including little league sports teams and of course local musicians.
As you may have noticed from its logo and name, a key aspect of B Chord's appeal is music.  The brewery regularly hosts local artists in the tasting room on a large and well equipped stage and will be home to Visit Loudoun's "Summer of Love" campaign finale on August 17th, featuring Michael Glabicki of Rusted Root and his new band Uprooted, as well as several local musicians.
Try the Juicy Garcia (yes, named for Jerry…) IPA when you visit, as well as thee Vienna Lager and excellent barrel aged stouts, scotch ales and barely wines.
And don't miss the Summer of Love tie-in release in early August – a Honey Wheat ale, made with locally sourced honey!
Keep the summer rocking on with Michael Glabicki of Rusted Root and his new band, Uprooted, along with incredible local bands, at B Chord Brewing Company on August 17th!
Check back next week for insider information, tips and insights on how you can #ConquertheTrail!

Guest Blogger and Certified Cicerone Brian Hennighausen is a lifelong Northern Virginia resident and craft beer lover.  You can follow him on Instagram @brewscapes or on his website www.brewscapes.org!