Every year culinary critics from Northern Virginia Magazine select their 10 Best Restaurants from the region. Loudoun restaurants tend to feature prominently, and 2020 was no different, with three seminal local establishments making the list.
In keeping with the geographic and culinary diversity of Loudoun, it's telling that they comprise of a modish new Mexican restaurant in historic Leesburg; a chocolate themed restaurant helmed by an Indian immigrant pastry chef and an elegant farm-to-fork favorite in glorious Middleburg horse country.
Here we take a look at the Loudoun winners and what Nova Mag said about them.
Number two on the Nova Mag list, the upscale Goodstone Inn & Restaurant in the tumbling hills of Middleburg horse country is Loudoun's version of the Inn at Little Washington. It has a terrace swimming pool, 18 elegant guest rooms and 265 acres of forests, farm fields and gardens from which a lot of the produce for the kitchen is procured.
The ultimate attraction is the superb Conservatory restaurant helmed by chef Jan Van Haute. The magazine raved about his beef tenderloin, "cooked to perfection, with just a bit of fat left on the exterior to allow the beefy flavor to come through in every bite," and were blown away by seasonal local vegetables: "multicolored carrots and cauliflower from the garden on-site, not some faraway farm." Menu-wise they recommended the $110 prix fixe: "four courses of chef Jan Van Haute's most seasonal handiwork. Whether it's white asparagus and morels or a honey-roasted peach with green almonds and white chocolate, it's fresh perfection you'll never forget."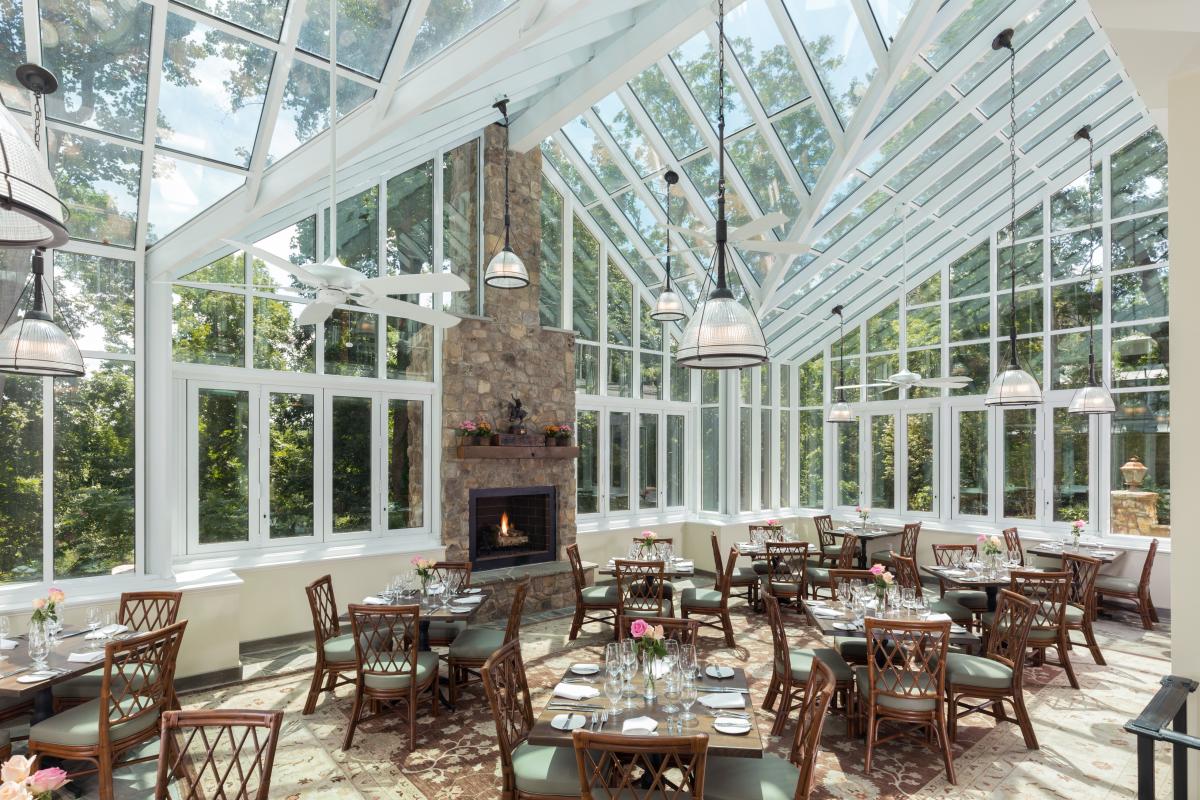 Cocina on Market 
Chef Jason Lage's lively cantina with rooftop patio on Market Street in Leesburg comes in at number 4 on the Nova Mag list. Lage, whose Market Table Bistro in Lovettsville and Market Burger Fries and Shakes in Purcellville focus on using Loudoun farm produce in dishes, does the same here with Mexican cuisine. The magazine liked the use of fresh watermelon from Lage's own 10-acre Fairbrook Farm in an ahi tuna ceviche and in an inventive "lime-brightened watermelon margarita," while noting that produce from nearby Nuts About Berries Farm appears in the restaurant's blackberry tres leches cake.
The magazine went on to sing the praises of Cocina's inventive take on Mexican staples such as "queso fundido flavored with mushrooms and mole or carnitas tacos made from local pork and topped with salsa verde, pink pickled onions and a single chicharrón." Hungry yet?
They also recommend saving space for dessert: "The crisp churros are a delight, presented on a plate delicately drizzled with warm, spiced chocolate sauce that will have you wishing for more of everything."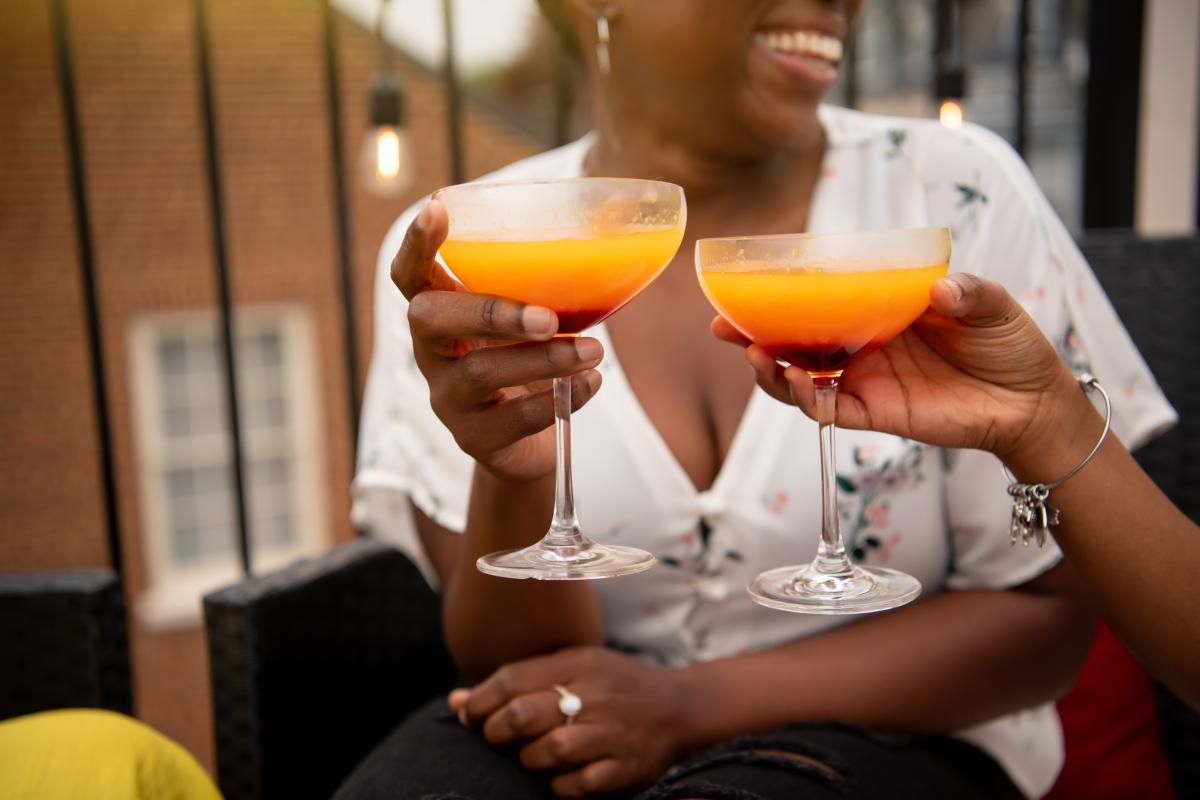 The fine dining restaurant, bar and chocolate lab of celebrated pastry chef and Indian immigrant Santosh Tiptur in the Village at Leesburg comes in at number 6.  The magazine compared in-house master chocolatier Sara Dobson's delectable delicacy to medicine and noted her "cacao-driven magic" appears in almost every dish on Santosh's menu in some way. "Crispy calamari, bright and beautiful with Fresno chile aioli and pink pickled radishes, has chocolate stout in its batter. The flavor of the burger is grounded by a deep, dark chocolate barbecue sauce. The short ribs? They're in a chocolate-espresso sauce."
Anther recommended dish was the harissa chicken and the magazine accurately noted the intimate layout and décor, including posters from French chocolate companies decorating the walls and the open plan kitchen, enabling diners to watch chocolatiers at work behind a large window.
Naturally, for a chocolate themed restaurant, the house's desserts were praised.
"The Illanka, for example, centers on a dark chocolate butter cake and gilds the lily with chocolate cremeux and almond-cacao nib streusel, then gilds it some more with smoked chocolate ice cream."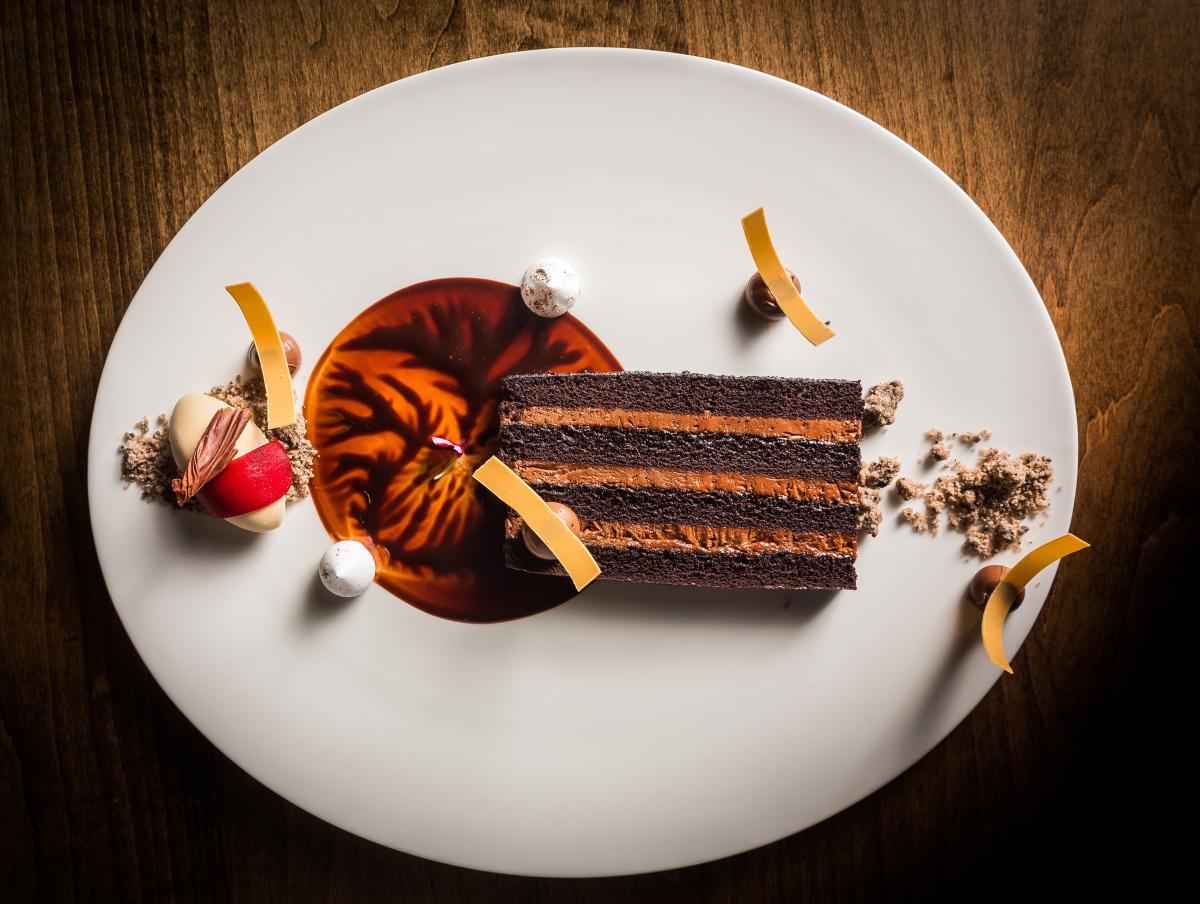 Phew!