The following guest blog was written by Chris Burns, owner of Old Ox Brewery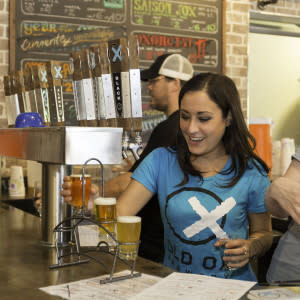 It's somewhat astonishing that Loudoun County was home to just one brewery in 1989 and now houses more than 20. But what is even more astonishing is that only seven breweries were open in 2013 and three years later we have almost tripled that number, with more in development. Loudoun County now holds the record for most breweries in any single county in Virginia. This begs the question, "what makes LoCo so darned attractive to breweries?"
The short answer is brewing history, sensible regulation, attractive location, and a fantastic beer drinking populous. Let's dive into those answers a little more, shall we?
Loudoun County was home to one of the first craft breweries when Old Dominion Brewing Company and Brewpub opened its doors in 1989. Coincidentally, Old Dominion was located just across the street from where Old Ox is situated today. Old Dominion was a very popular spot among LoCo residents and many Old Ox patrons still bemoan OD's 2007 sale and subsequent move to Delaware.
Loudoun County gets much of its beer chops from graduates of the Old Dominion school of brewing who remained in Loudoun.  In fact, the founders of Lost Rhino as well as the first head brewer at Old Ox are all alums of Old Dominion. After Old Dominion closed its doors, it was several years before the next brewery would open…Lost Rhino launched in 2011, followed by Mad Horse Brew Pub in 2012 and Crooked Run and Beltway in 2013 … and then the explosion of new breweries began.
In July 2012 the Virginia State Legislature changed the law to allow breweries to serve beer without requiring a restaurant license, which changed the economics of the business and paved the way for a booming craft beer scene. And, in 2014, a bill allowing breweries to operate in rurally zoned areas passed the Virginia General Assembly. The stage was set for breweries to flourish in Loudoun County.
Local government is also a factor. One of the reasons Old Ox chose Loudoun County was because the local government was willing to work with us. Their experience with the wine community gave them the expertise and understanding of the alcohol-related businesses that other local governments had yet to develop. They were responsive, asked all the right questions, and helped us through the building process. Nice work, Loudoun.gov, you deserve a beer. May I suggest happy hour at the Ox?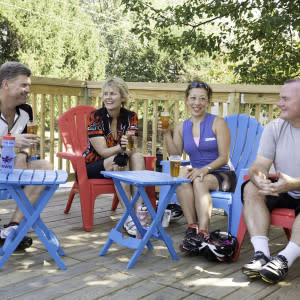 Loudoun County's diverse landscape supports a wide variety of brewery models. In towns like Ashburn, Leesburg and Purcellville, breweries thrive at production facilities like Old Ox and Lost Rhino; boutique breweries like Crooked Run; and brew pubs like Dog Money all offer a different experience for visitors. The W&OD Trail has been a huge boon to our business and on weekends keeps our Tasting Room busy and full of Spandex.
A new addition to Loudoun County that adds a local dimension to brewing is the opening of a hops processing plant and soon a maltster in Lovettsville. The presence of these processing facilities encourage local farmers to grow the raw ingredients necessary to brew beer. Loudoun's doing its best to keep it local!
Oh, and one last thing that makes Loudoun a great place to operate a brewery (and might I say, the most important element?) … the people. Local breweries are a place for the fine folks of Loudoun (and neighboring counties) to gather and celebrate special occasions or relax with friends. Since the days of Old Dominion, beer has been a part of the fabric that makes Loudoun County so great. As a community, we've become accustomed to fresh beer in our backyard. We take pride in watching the LoCo Ale Trail, which was created by Visit Loudoun, grow and feel a sense of ownership when our hometown breweries succeed. LoCo beer is a delicious vehicle for showcasing local flavor, talent, and personality but if a beer is brewed and not enjoyed by thirsty suds seekers, then what's the point of it all? So here's to all that have supported the LoCo Ale Trail. Thank you for stopping in and whetting your whistle. We wouldn't be here without you!
For a complete list of breweries and beer related events and itineraries, check out Visit Loudoun's Loco Ale Trail page.