What is the only thing better than enjoying a craft beer in a Loudoun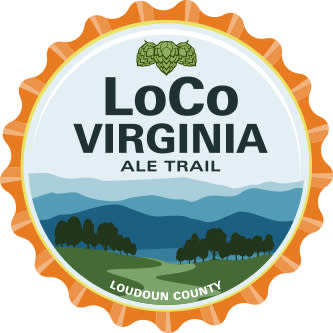 brewery? If you answered "drinking several craft beers, in several Loudoun breweries" then not only are you correct, but I would like to be your friend! This week Visit Loudoun launched the LoCo Ale Trail, highlighting the 14 (and growing) breweries in the county.
There are many ways to explore the beer scene along the LoCo Ale Trail. Whether you want a tour of the farm breweries out west, or prefer the abundant modern amenities surrounding the eastern breweries, you have many options. If you would prefer to work off the calories before drinking them in, hop on your bike and explore the string of breweries that lie along the Washington & Old Dominion Trail in our Brews by Bike Trail. To give you a taste of what you'll experience on the LoCo Ale Trial, follow me as we take a journey down the Dulles Trail.
Stop 1: Beltway Brewing Company in Sterling is a great way to start the day. Beltway is such a unique brewery for Loudoun, as it is a contract brewery, working with partners from Brooklyn to the Florida Keys. While you are always sure to find something new on tap in the tasting room, there is only one option for me, the 1776 American Brown Ale, which was just named by Thrillist as one of 33 American Beers to Drink Before You Die. After getting my fill of liquid American pride, it's time to head over to Old Ox Brewery.
Stop 2: Old Ox Brewery not only makes headlines for standing up against Corporate Bullying, they also brew some of my favorite beer in the county. Since it is summer, I have to go with my favorite French farmhouse ale Saison D'Ox, which won a gold medal in the 2014 Virginia Craft Brewers Cup. Hopefully the beer's winning spirit transfers to me for a victorious game of Cornhole in the back of the tasting room.
After a great couple of brewery visits it is time to grab some dinner, so I decide to pay my respects to the brand new Lost Rhino Retreat. This Brambleton brewpub not only captures the feel of the original tasting room in Ashburn, but adds to it an exceptional menu. I'm ordering the Carnitas and Seared Tuna Tacos, and washing it all down with a Final Glide Hefeweizen.
Stop 3: Day 2 of my journey starts where the previous day left off, except I'm at the original Lost Rhino Brewing Company tasting room in Ashburn. Lost Rhino is the longest running brewery on the LoCo Ale Trail, and the brewers have perfected many great recipes. Because sometimes I like to live dangerously, I'm going with Bone Dusters, an amber ale created using the wild yeast found from dusting protocetid whale fossils found in Virginia near the Dismal Swamp.
Stop 4: My day continues further down into Dulles at Ocelot Brewing Company. Not only do these guys have a passion for strong beers and live music, but I can almost always find a soccer match on the screens, so I'm checking off a lot of very important boxes at once. All of Ocelot's brews pack a pretty serious ABV punch, so it won't take long for me to start singing along with the band. My personal favorite is the Lemon Yellow Sun, an Imperial Hoppy Wheat Ale with an 8.1% ABV.
As my tour of the eastern Loudoun breweries nears an end, there is one thing left I have to make sure I do- update my Untappd profile. If you too enjoy to "Drink Socially", make sure to keep checking back to our Facebook and Twitter pages for an upcoming announcement on an exciting Untappd offer! Be sure to tag all of your photos #LoveLoudoun and #LoCoAleTrail to share your experiences with your fellow Loudoun beer enthusiasts.