New Year's is a time to celebrate the end of an era and look forward to a new chapter in your life. Along with celebrating, everyone is pressured to create resolutions that they may- or may not –complete in the new year. We want to make it easier for you to check off your resolutions so we took the most common ones and created ways that you can accomplish them during your next trip to LoCo.
1. Be able to use the word "balance" in a sentence about wine correctly
The easiest resolutions to complete are the ones that are the most fun, and becoming a wine connoisseur is one of them. Since Loudoun is DC's Wine Country,

 

there's not better place to learn about wine. Many of our winemakers to really understand what goes into making wine including Doukenie Winery's Taste of Science event February 7th! The most fun aspect of this resolutions is you get to try a lot of different wines, so drink up!
2. Fitting in Fitness
As I write this, I'm telling myself that I will go running after work with the running shoes I got for the holidays, but I know deep down that I probably won't do it. I'm sure, however, that you have more perseverance than I do, so you will be able to keep your get healthy resolution in 2015. While you're spending a weekend in Loudoun, hike or bike one of our beautiful trails like Washington and Old Dominion Railroad Regional Park or get physical and plunge through the trees on the ziplines at either Harper's Ferry Adventure Center or Empower

 

Adventure Ziplining. If you prefer more relaxing experience, check out Yoga on a Wine Trail events at North Gate Vineyards. No matter what kind of activity you prefer, there's always something for you in LoCo.
3. Bring Pinterest Crafts to Life
Since you're going to be drinking more wine in 2015, it only makes sense to recycle those corks and turn them into something fantastic that you can decorate your home or office with or give to a friend as a fun gift. I gave my best friend an "N" made of corks from a Loudoun winery for her bridal shower gift and she loved it! For cork and other crafting ideas, check out our Wine Craft Pinterest page or attend events like Winery 32's Sip and Paint or Otium Cellars' Cork to Craft where you can enjoy great wine while harnessing your inner creativity.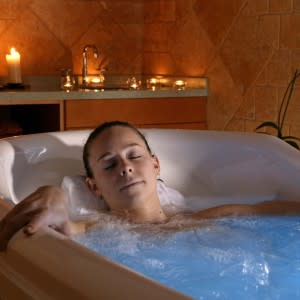 4. Give in to Wanderlust
Everyone always wants to take a trip in the new year and why wouldn't you? After all of the work you did in 2014, you deserve an escape to Loudoun where you can relax with a glass of vino in your hand and enjoy a delicious meal and beautiful countryside. While here, visit our wineries or breweries, get pampered  at the spas, indulge in gourmet restaurants and buy yourself a late holiday gift at one of our shops.
5. Spend more time with your actual family than your virtual one
It's always a good time to spend more quality time with your family. Whether you are braving the elements together while hiking the Appalachian Trail, blowing off some steam at Pev's Paintball, learning something new at Udvar-Hazy Center or seeing a show at Tally Ho, as long as you are with family and having a good time nothing else matters.
6. Get Struck by Cupid
7. Think Before I Eat
While we are known as DC's Wine Country, the food in Loudoun is also something to rave about. This is another one of those resolutions that is going to be fun to do because...you get to eat! What's better than eating? Nothing; especially when you are eating great local food. Many of our restaurants are farm-to-table like The Restaurant at Patowmack Farm, Grandale Restaurant and Market Burger Fries & Shake. All of the food there is made from locally grown products that are good and good for you. Kill two resolutions with one stone while eating healthier foods that you know came from a great Loudoun farm.
8. Broaden Your Beer Horizons
Don't get me wrong- I have a beer brand that I always go to. But, as discerning as I am, I enjoy going to the many craft breweries in Loudoun and trying

 

something new like Lost Rhino's Bone Dusters, whatever delicious concoction the guys at Adroit Theory have whipped up or the seasonal specials from Old Ox Brewery. The sensation of craft beer is something completely different than regular beer brands and with all the great breweries in Loudoun, it will be easy for you to complete this resolution and have a great time doing it.
9. Up Your Social Media Game
Let us know in the comments if you have completed any of these resolutions in Loudoun or if you have others that you completed as well. Happy 2015!