The first album I ever bought was from the Beach Boys, and that was closely followed by Puff Daddy and the Family's "No Way Out" record. Some of my earliest concerts included the likes of R. Kelly, Rusted Root, and yes, even Britney Spears. I have rocked out with the Foo Fighters in DC, and always make time for a summertime Jimmy Buffett tailgate. The average human ear won't find much common ground in these musicians, but what maintains throughout is if the music is live, I'm usually pretty game to check it out. Since no time is better than summer to take in a concert, here are 5 places to watch live music in Loudoun.
Smokehouse Live
Beer- check. Whiskey- check. BBQ-check. Great music- check. This place has it all, and considering it has only been open a couple months is really making a name for itself, with the likes of country music personality Bobby Bones already showing up to play a gig. If country music isn't your thing, don't worry, they offer a little bit of everything, including an upcoming performance by Crowded Streets, a Dave Matthews tribute band.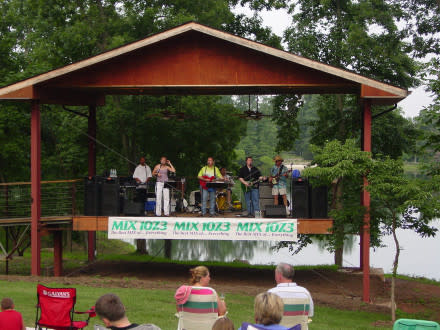 Live music is great and all, but we aren't kidding ourselves as to your motivations for visiting Loudoun. We know plenty of you are coming here for the wine. Well, Tarara Winery gives you the chance to enjoy both! Every Saturday night you can rock out by their Shadow Lake, while drinking some of Loudoun's most popular wine. If you are an early planner make sure to put the August 29th performance by The Reagan Years onto your calendar, it's always one of the highlights of the summer.
Ocelot Brewing Company

<

 

/li>
Just because we know not everyone is a lover of fermented grapes, we've got a special location just for our beer drinkers. If there are two things in life the folks at Ocelot are passionate about, it's beer and music. A quick look at their beer list featuring classic lyrics and music references, will tell you just how serious these guys are, so grab a pint of their Soft Lies (IPA) or Lemon Yellow Sun (Imperial Hoppy Wheat Ale) and check out their Facebook page for the latest show info.
Tally Ho Theatre was originally built in 1932 as a motion picture and performing arts venue. It has since been renovated to serve as a concert hall and theater. The venue books local as well as national acts. Later this month they welcome multinational Celtic band Gaelic Storm, as well as CMA nominee Keith Anderson.
Bluemont Concert Series

<

 

/li>
It's no secret that a venue is a pretty key component for a great music venue, so for a truly historic experience, you have to get a show with the Bluemont Concert Series. As long as the summer storms hold off, these shows are held on the Loudoun County Courthouse lawn, in downtown Leesburg. The courthouse was originally constructed in 1894 and provides an excellent starting point for an evening of exploring through King St.