Tom Bobak – Founder & Editor / American Craft Beer
LoCo is a nickname for Loudoun County, a scenic expanse of small towns, rolling hills and mountain vistas just northwest of Washington, DC. For years it's been known for its artisan wineries - and now it's becoming a "go-to" destination for a whole new generation of craft breweries.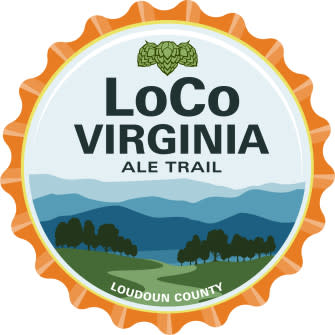 I was recently invited up to spend a couple of days in this beautiful part of the country – and afforded the opportunity to meet some of the many brewers that are now part of the county's new LoCo Ale Trail. I'd heard that there were some interesting breweries doing some exciting things along the trail, but I was blown away by the sheer number and variety of brewers doing amazing things - and a little embarrassed that I hadn't made this trip sooner.
Every brewery on Loudon County's Ale Trail is worth a visit, but there are a couple of destinations that you absolutely don't want to miss…
Lost Rhino Brewing Company – Founded by Matt Hagerman and Favio Garcia, two friends who crossed the country on beer journeys together, and named after the mythical wave of surfers lore, Lost Rhino is one of the ale trail's "must" stops. Favio, a transplanted Brazilian and the Director of Brewing at Lost Rhino was on hand to show me around, and his excitement about everything they're doing was infectious. Started in 2011, Lost Rhino is widely known and respected for their mad brewing skills which span the spectrum of styles. Sure they do the Pilsners, Hefeweizens and IPAs. But they also brew all kinds of seasonals and barrel-aged exotics. They even sent me packing with some complimentary sour beers – the current "It" style in craft brewing.
Crooked Run Brewing - The antithesis of Lost Rhino in almost every respect except quality, Crooked Run is a farmhouse nano-brewery and bar, tucked away in a charming indoor/outdoor nook at Market Station in historic Leesburg. Started by Jake Endres and Lee Rogan, two young entrepreneurs who are as fearless as they are passionate about their brewing, Crooked Run is one of the smallest breweries on the LoCo Ale Trail, but these beers boldly stand up to larger competitors.
Kettles & Grain – Start your day with a visit to a sleek and modern homebrewing mecca in Loudoun County that defies all expectations. Family owned and operated by George & Dawn Prusha, Kettles & Grain not only has all your brewing needs, it also has a state-of-the-art six kettle steam- fired system that you can craft your own brew on. They're also a magnificent bottle shop and offer over one hundred smart and sometimes hard to find releases. Plus they just debuted a new growler station the morning I dropped by.
Adroit Theory Brewing Company – Of all the stops on the LoCo Ale Trail, few are as essential Purcellville's Adroit Theory. Founded in 2014 by Mark Osborne, this nano-brewery is the serious beer geek's final destination. Their logo demands that you "Consume Life - Drink Art" and their esoteric high velocity beers (some of which you can only purchase at their brewery) are brilliantly packaged individual works of art. Specializing in the unusual and committed to barrel-aged creations, Adroit Theory takes pride in never brewing the same beer twice. One of a very few American craft breweries that are willing to "risk it all," Adroit Theory is a brewer's brewery with an almost cult-like following. This one is not to be missed.
Dirt Farm Brewing – Sometimes it's the beer and sometimes it's the place, but at Dirt Farm Brewing it's both and then some. Located in a strikingly rustic farmhouse, on a scenic Blue Ridge Mountain overlook, this family-owned brewery combines taste and place wonderfully. Come for the sunset, when everyone gathers for fresh beer and a spectacular view of Washington, far to the east. And be sure to try a peach or cherry ale when you're up there. All the fruit used to brew them comes from the family's own orchard.
Editors Note: You can see all of the LoCo Ale Trail in one place on Saturday, Oct. 24th from 1-6pm during the inaugural LoCo Brewfest hosted at Lost Rhino Brewing Company, and use the hashtag #locoaletrail to share all your experiences on the trail.