The 2017 Northern Virginia Restaurant Week is back by popular demand with even more of your favorite Loudoun restaurants participating in this week-long dining experience. A variety of local restaurants from fine dining to fast casual are offering great meals at great prices until March 27th. Grab your friends, coworkers or family and head over to one, or a few, of the many delicious restaurants. Find out about all of the participating Loudoun restaurants below: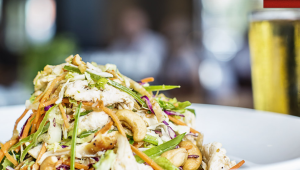 Blackfinn Ameripub - Born to be a whole new generation of the classic American pub, Blackfinn is a lively restaurant and bar that offers the affordable, craveable American food that guests want to eat. 
Black Olive Sports Bar & Grill - Located at The National Conference Center in Leesburg, the Black Olive is a unique gathering place focusing on fresh ingredients and seasonal cooking producing a handcrafted menu.
Bonefish Grill - Your local seafood destination in Ashburn is Bonefish Grill. Outside of their unforgettable food experience, Bonefish offers the freshest cocktails and personalized service.
Burton's Grill & Bar - There was a simple goal in mind during the conception of Burton's Grill & Bar - delight every guest. Consistency, integrity and passion guide their delicious and unique menu choices.
Chuy's - Tex what? While Chuy's refers to their food as "tex-mex", their menu is made up of a combination flavors with recipes and ingredients from across New Mexico, the Mexican Border and beyond.
Cooper's Hawk Winery & Restaurant - The Cooper's Hawk concept includes four distinct components: an upscale casual dining restaurant, full-service bar, private barrel-aging room and a winery inspired tasting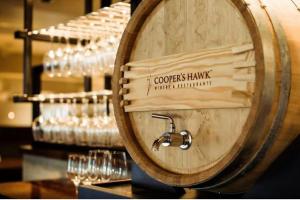 room.
Copperwood Tavern - Copperwood Tavern is a farm-to-table restaurant representing the freshest products available in Loudoun. Find the true flavor of their delicious local meals while celebration Restaurant Week.
Coton & Rye - Located at Lansdowne Resort, Coton & Rye is celebration of Virginia's culinary history with signature dishes from the past such as fried chicken or their famous pot pie featuring local ingredients.
Dogwood Bistro - Enjoy the ambiance of Dogwood Bistro at the Doubletree in Loudoun where business blends with pleasure. Try their satisfying New Orleans Jambalaya Pasta or signature Beef Short Ribs.
Eggspectation - Committed to innovation and achievement, Eggspectation is inspired to be extraordinary. They strive to give you the best possible food quality and service.
Famous Toastery - Never compromising fresh ingredients or amazing service, Famous Toastery dedicates to providing their guest with meals featuring local ingredients.
Firebirds Wood Fired Grill - Over the years, Firebirds has become the lunch spot that everyone agrees on and a dinner invitation that no one passes up. Bold flavor, authentic hospitality and real value is what Firebirds is made of.
Ford's Fish Shack - Featuring home-made and seasonal specials, Ford's Fish Shack became a local favorite for their delicious lobster rolls. Make a reservation for this week's specials.
Hail & Hog Kitchen and Tap - This location is a first-class venue, located in the heart of the One Loudoun, that combines the iconic Washington Redskins brand with great food, drinks, service and entertainment.
Harriman's Virginia Piedmont Grill - Inspired and staying true to the essence of the Virginia Piedmont, Harrimans menu highlights fresh, seasonal ingredients, captivating farm to table elements; literally, with their very own Chef's garden located just outside the restaurant.
Okada - Okada is the Japanese and Sushi Bar in Loudoun. They offer fresh sushi, hibachi style entrees and authentic Japanese culinary cuisines. 
King Street Oyster Bar - This newest addition to Downtown Leesburg's restaurant scene has quickly become a fan favorite.  If you love oysters and shrimp, it is available at this delicious downtown restaurant. 
Not Your Average Joe's - Enjoy a delicious three-course meal for under $30 at Not Your Average Joe's during Northern Virginia Restaurant Week
O'Malley's Pub - Featuring sports programming, half-pound burgers and the best wings in town, O'Malley's Pub in Loudoun is the perfect place to spend or a lunch or happy hour with the coworkers.
Suvai Indian Restaurant - The best Indian restaurant in Loudoun is in the heart of Ashburn and has been offering a unique dining experience since opening their doors.
Ten Spot Kitchen & Tap - Ten Spot Kitchen & Tap serves as a haven for food and sports enthusiasts who embrace a fresh take on American Pub Fare boasting a menu highlighted with ingredients mostly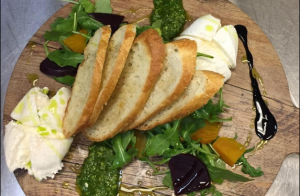 sourced from farmers in Northern Virginia
The Zone - The Zone's Shotz Sports Bar features a full service bar, including twelve rotating beers on tap, a craft can menu, a wide variety of local wines and specialty cocktails.
Travinia Italian Kitchen & Wine Bar - Travinia Italian Kitchen and Chef is compelled by a passion for the flavors and freshness of regional ingredients where guests look forward to a creative and varied menu of contemporary Modern American Italian choices.
Yummy Pig BBQ - A full service restaurant offering entrees and sandwiches with a variety of smoked bbq meats including pork, chicken, brisket, brats, pork ribs, braised rib tips, and chicken apple sausage.
Zoup - Zoup offers hundreds of award-winning soups with 12 always-rotating daily varieties including soups that are low-fat, vegetarian, dairy-free, spicy and made with gluten-free ingredients.