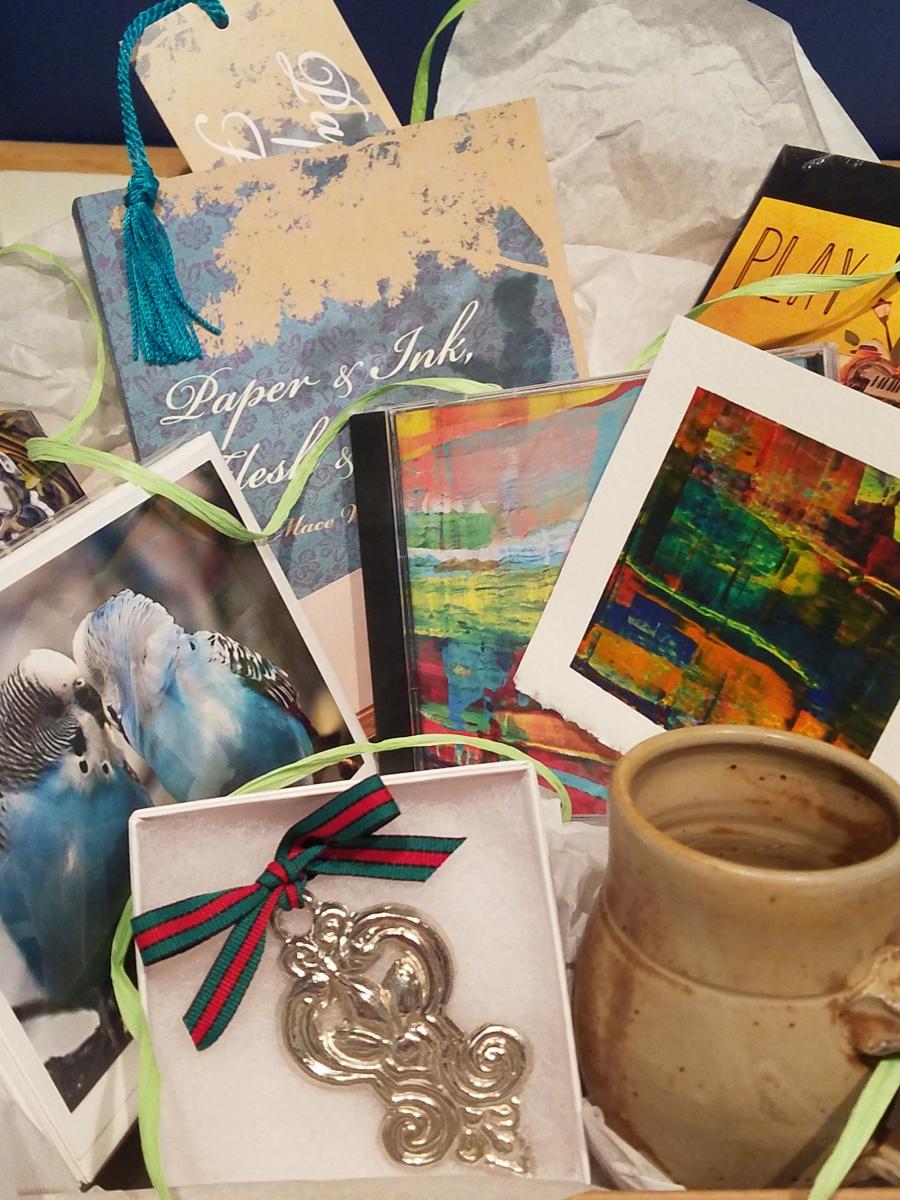 Take Loudoun Home for the Holidays
At the height of COVID, Franklin Park Arts Center Managing Director Elizabeth Bracey treated herself to a GlobeIn Subscription Box – a monthly delivery of art and artisan products sourced the world over by global online marketplace GlobeIn.  
It dawned on Bracey that she was working in a county where many local artists and artisans were struggling because of lockdown and could use a bit of support themselves. Thus was born the Franklin Park Arts Center Artisan Gift Box– a three-box monthly subscription, available December through February, that gives subscribers access to decorative art, music and artisan products made entirely by Loudoun creatives.
"Each gift box contains hand-made items and is curated around a different theme each month," said Bracey, who developed the concept with colleague Kellie Goosen, program specialist at Franklin Park. "December is 'Relaxation and Self-care', and while I don't want to give away the surprise, it will include a CD by local musician Tristan Welch, an original watercolor by artist Steve Loya, a book by a Loudoun author, a piece of pottery, a jar of local honey and more."  
January's box is themed "New Beginnings", February's "Love and Joy" and the three-month subscription costs a mere $180. "We need art to keep us connected to our community right now," said Bracey. "When the pandemic is over, I want to make sure there are artists and artisans out there who survive."
While the artisan box is a wonderful gift for this holiday season, it's not the only way to support local makers. For the past few years the Take Loudoun Home campaign has promoted the purchase of local products and produce, from sheep's wool gloves, pottery and artisanal jewelry to homemade bread, cheese, jams, organic meats and charcuterie from a myriad Loudoun farmers. Visit Loudoun Made, Loudoun Grown marketplace to order.
Of course, no holiday is complete without a craft beverage. In October more than a dozen local wineries were recognized at the annual Loudoun Wine Awards. Winning vintages for discerning drinkers to look out for include October One Vineyard's 2019 Albariño, Maggie Malick Wine Caves' 2019 Viognier and Bluemont Vineyard's 2017 Bordeaux blend, Ascent. For spirit lovers, send Catoctin Creek Distillery's cocktail kit, complete with a bottle of whisky, bitters, mixers and a recipe card.
Happy shopping!